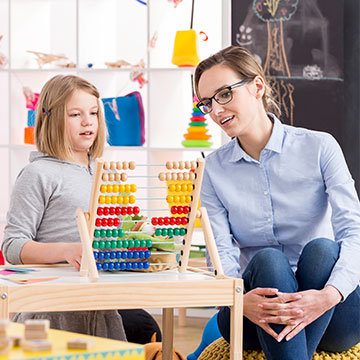 When you enroll your child in daycare, you open the door to so many new learning opportunities and benefits. Childcare providers dedicate their lives to taking care of your child, from the messy cleanups to the early life lessons. They take on this precious responsibility and do everything they can each day to make a positive impact on these young minds. Here are 7 reasons why you should love childcare professionals:
They are teachers, not babysitters.
Each day the lesson plan includes everything from manners to sharing, encouraging childhood development through fun activities and lessons.
They build relationships.
Childcare professionals often spend every day engaging with your child and building a relationship of their own. They learn to know which child needs the extra help tying their shoes, needs their pacifier at all times, or never sleeps through nap time.
They work long hours.
While many parents/guardians work long hours, childcare professionals must arrive before you go to work in the morning and stay until the last child is picked up at the end of the day.
They have lots of patience.
While your children at home might test your patience at times, imagine having dozens to care for each day. Childcare professionals go the extra mile to manage each unsavory mess or meltdown with a patient, upbeat attitude.
They keep your kids safe.
Daycare teachers are professionals that you trust with your most precious possession: your kids. They do everything in their power each day to not only boost your child's development but to ensure their basic safety needs are met at all times.
They encourage creativity.
Oftentimes, the lessons taught at a daycare go almost unnoticed by the children, masked by fun and interactive activities. Especially at a preschool age, children absorb everything they see or experience, making those young years the best time to expose them to lessons that challenge their creative mind.
They dedicate their lives to your children.
Childcare professionals spend their hours each and every day tending to the needs of your children and ensuring they have the most beneficial experience as possible while providing you with peace of mind.
At Kangaroo Forest, our childcare professionals provide a quality learning environment with an emphasis on safety and resources to encourage the growth and development of your children. To learn more about our programs,
click here
.