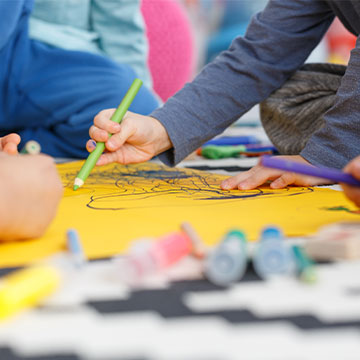 The Kangaroo Forest is an early childhood center located in Spring, Texas. We offer a quality educational environment for children ages six weeks through 12 years of age. When choosing childcare, it is important to find a provider who checks all of your boxes.
Activities & Curriculum
Before choosing childcare for your little one, make sure you believe in a provider's curriculum. At the Kangaroo Forest, we complete activities that encourage child development and education. For children under two years of age, creative curriculum allows teachers to help teach skills essential to child development. For older students, the Kangaroo Forest offers ABeka Curriculum. This full academic curriculum provides skill-building in number concepts and recognition, letter recognition, social and character development, phonemic awareness and phonological awareness.
Teacher to Student Ratios
Low teacher to student ratios allow our staff to provide one-on-one interactions and better understand each child. The Kangaroo Forest proudly meets the minimum standard requirements for teacher to child ratios set forth by the DFPS. We often try to meet the NAEYC standards, which suggest even less students per staff member.
Field Trips & Events
Throughout the year, the Kangaroo Forest plans field trips and events to give students a highly unique and fully immersive educational experience. For example, in October our students will get to learn about fire safety from local firefighters. To stay up-to-date with our latest adventures, like our Facebook page.
At the Kangaroo Forest, we offer a caring and nurturing environment where your children can giggle, grow and dream. To
schedule a tour
, contact us at (281)465-4069.