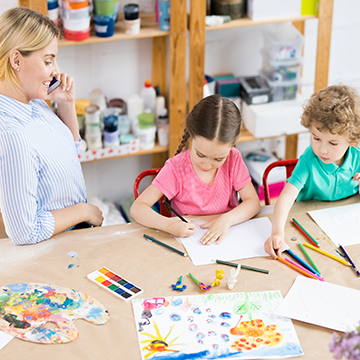 As a parent, you want to be present in your children's lives, but must also find ways to financially support your family. If you work a 40-hour work week, you probably feel that there just isn't enough time in the day for the things and people you love. Here's how you can develop a work-life balance:
Switch off "work mode"
With technology at your fingertips, it can be easy to check your work email after hours — especially when you're signed in on your phone and have your notifications on. In order to find a work-life balance, you must switch off "work mode" upon clocking out for the day. We recommend only checking your work email from your work computer; you should not be signed in to your work email from your personal phone. The stress of the workplace should be left in the office!
Schedule family time
You aren't just an employee — you're a human with hobbies, interests, and loved ones. When you work 40 hours a week, it can be difficult to make time for the people and things that matter. Therefore, it is important that you make an effort to schedule time for family and friends during the week. Whether it's a weekly movie night or a day at the park, block out a few hours during the evening or weekends that are dedicated to spending time with the people you love. If you can commit 40 hours a week to your employer, you can commit a few hours a week to your family and friends — make this a non-negotiable!
Practice daily self-care
As an employee, you serve others all week long; as a parent and partner, you serve your spouse and children all week long. With the growing demands of work and life, it can be easy to neglect your own wants and needs. A huge part of developing a work-life balance is practicing self-care. Whether you designate time for exercise or a calming trip to the spa, your mental, emotional, and physical health are equally as important as your other obligations.
Looking for childcare this summer? Visit our website to learn more about our programs, teachers, curriculum, and more.